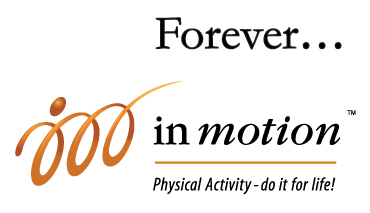 Forever...in motion
SPRA and the Saskatoon Health Region are partners in Forever…in motion, a strategy that provides and promotes physical activity opportunities for older adults in Saskatchewan. This collaborative strategy to reach and improve health through physical activity for the older adult population by focusing on individuals living in seniors' congregate housing and condominiums, or who attend churches, day programs and community programs.
The Saskatoon Health Region has been working on the Forever…in motion program since 2002 in order to make physical activity opportunities accessible to older adults. SPRA coordinates and manages a the provincial Forever..in motion program, and is working to increase partnerships throughout the province that improve access to physical activity for older adults using the Forever…in motion model.
Forever...in motion Leader Training Workshops
Are you an older adult interested in leading fitness classes for your peers in your community? Anyone can become a Forever…in motion Leader. They can be of any age and no previous experience is necessary.
Click here to check out the information on Forever…in motion Leaders.
Check out our upcoming Leader Training opportunities here.
Host a Forever..in motion Workshop
We can help you host a Forever...in motion Workshop in your community!
If you would like to host a Forever…in motion workshop, contact Kelsey Michaluk at (306) 780-9219 or kmichaluk@spra.sk.ca.
Education Materials
For More...Information
To learn more about the Forever...in motion program, please contact:
Kelsey Michaluk
Consultant – Youth Engagement
Saskatchewan Parks and Recreation Association
(306)-780-9219
kmichaluk@spra.sk.ca